All the World Fairs that Paris hosted all trough the nineteen century gave the city beautiful monuments. The most famous one is, of course, the Eiffel Tower, built for the 1889's World Fair. But this event was about more than just building the highest tower in the word.
World Fairs are by definition fairs where every country in the world is invited to show all their work of industry, and by "work of industry" they meant all the things made by humankind.
1889 was a very important year in France, because it was 100 years after the French Revolution. But a lot of country didn't like what French people did during the French Revolution and they didn't attended the World Fair of 1889.
But still, this exposition was bigger than the previous world fairs that Paris hosted. It lasted from May to November 1889 and two of its buildings lasted in the memories of the visitors: the Gallery of Machines and the 300 meters tower.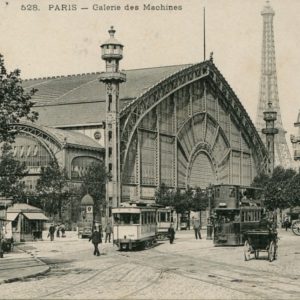 The Gallery of Machines was a giant monument made with metal and glass. They used this building during the world fair to show engine and machine working like they were pieces of art. The Gallery of Machine was really impressive by its size mostly but also for having really thin glass covering the metallic architecture. It was located on the field of Mars and made it through the next world fair in 1900 but it was tore down in 1909. At the time there were two kinds of architecture lovers: the kind that liked modernity, metallic building and new challenges, and the kind that liked tradition, stone and marble buildings. And even though some people fought not to have the Gallery of Machines destroyed, they weren't enough to avoid it.
The idea of building a 300 meters tower (1000 feet) was into a lot of minds in the nineteen century and the World Fairs were encouraging the phenomenon. The project of a 304 meters tower was in preparation for the 1876's World Fair in Philadelphia but because of the lack of founds was never completed.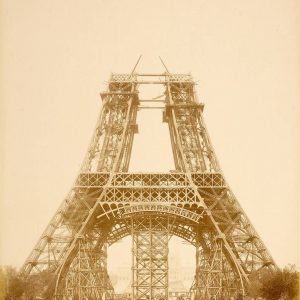 Not everyone could build a building for a World Fair. To be able to do that, you had to win a contest. The architect who had presented the most impressive building in the eyes of the World Fair committee was given a big subvention to build it. An architect named Gustave Eiffel won the contest for the 1889's World Fair and started building a tower made of metal that would be the highest building in the word.
The people who were fonder of stone and marble architecture weren't really pleased with this Tour that was really high and so could be seen from really far. But for the others this metallic tower was the symbol of modernity and progress. The 300 meters Tower was like a beacon guiding French People forward.