Discover Medoc and the prestigious left bank of the Bordeaux wine region with it's gorgeous Chateaux! You'll explore two beautiful Chateau Wineries on this Half-day Trip from Bordeaux and learn their fascinating histories dating back more than 160 years. Appreciate the warm welcome you'll receive at each winery and personal explanations about their unique ways of making wine.
This fun adventure will help you to appreciate the unique "terroirs" of Médoc as there are so many famous subregions with different soil here. You'll walk through a Merlot vineyard, see a grape press, learn how Medoc wine is made and pose for souvenir photos while you lean on the huge oak barrels where it is aged.
Everyone knows that the best way to learn about wine is to taste it! So after you have finished exploring the wine making process you'll enjoy 6 tastings of Medoc wines, with the Margaux and Haut Médoc labels, from different cuvées. As an additional treat we'll bring even more sweetness to your day when we teach you how to pair these famous red wines with chocolate.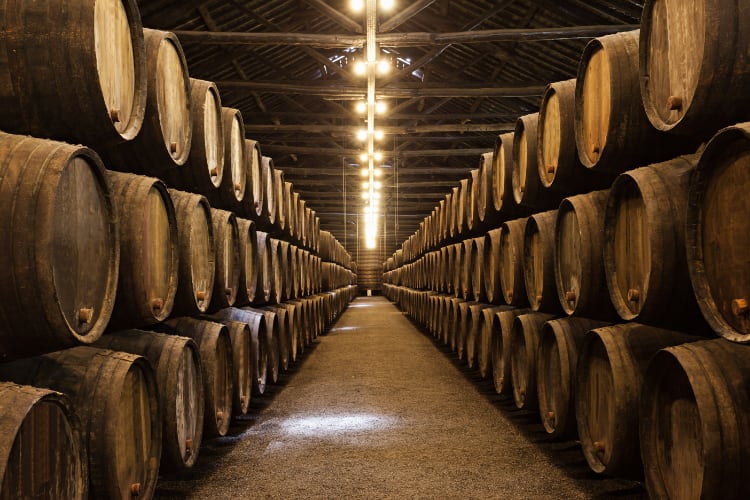 Margaux wine
Meet up with your guide on the corner of the Tourism Office in Bordeaux and head off on an adventure along the gorgeous Route des Châteaux into the Médoc vineyards. Your witty and charming guide will take you to two unique chateaux wineries in Médoc. You'll ride in a luxury van in a small group with no more than 8 participants. This tour will be fun, interesting, tasty, and you'll receive the personal attention you deserve.
The drive to the first Chateau is about 45 min long. You'll be riding in comfort in one of our brand new vans with fresh A/C, comfy forward facing seats, and large clear windows. The first Chateau you'll explore makes Margaux wines. You'll learn about their fascinating family history of more than 160 years as well as their particular winemaking process.
You'll visit their unique wine related art and artifact collection and also enjoy the panoramic view over their beautiful vineyard from on top of a bunker that was built to keep their wine safe during the cold war. You'll tour their pressing room and also visit their huge fermentation vats. While some are made with cement and stainless steel they still have their much older vats made of oak for you to see. Then there will be at least 3 tastings of the Margaux wines which you will have just learned about.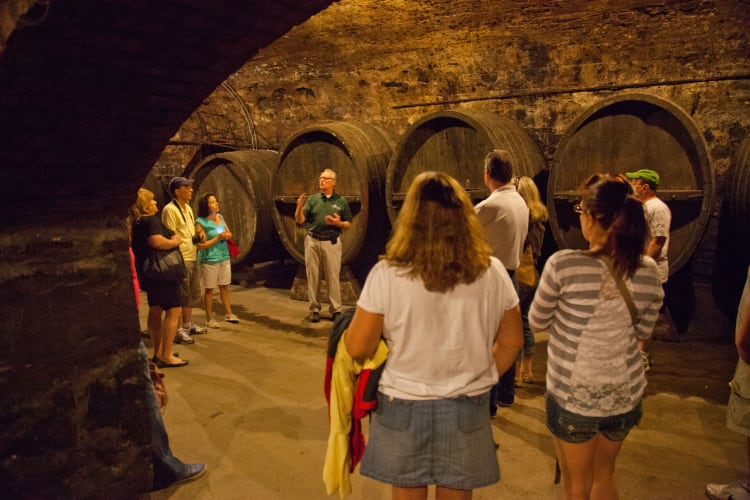 Haut-Medoc Vineyard
At the next winery you visit you'll be blown away by the elegant beauty of the renaissance castle (chateau) that is surrounded by perfectly ordered vineyards. It will undoubtedly become the backdrop for one of your favorite souvenir photos of France. This Medoc winery also has some very modern, celestial looking, lighting effects in their impressive barrel shed where the oak aging barrels are lit up with flare!
At this winery you will learn about their way of creating perfectly balanced Haut-Medoc wines. You'll also enjoy 3 tastings of their different cuvées as you learn about how a slight change in soil composition can really affect a grape vine. And of course you will also learn to pair the wines with chocolates!
After you have finished enjoying your wine you'll thank the winery for its friendly and in-depth tour before you board the van and head back to Bordeaux. The drive back to Bordeaux will take a little more than an hour long. You will be dropped back off at the same spot where you first met your guide. There are many great restaurants around the Tourism Office in Bordeaux so it will be easy for you to eat lunch or dinner right after the tour is finished.
Good to Know:
No meals are included in this tour. Unless you consider the chocolate chunks and wine pairing as a meal.
You can buy wine at all the wineries that we visit. It's less expensive to buy it here than in your own country.
If you enjoyed the tour you can tip the guide. Our guides enjoy receiving tips.