Discover the picturesque right bank of the Bordeaux region when you visit Saint Emilion! You'll visit the vineyards and wine cellars of two prestigious Chateaux as well as the adorable town of Saint Emilion which is a UNESCO World Heritage site. Saint-Emilion is one of the most famous wine producing regions in the world and home to the noble Merlot, Cabernet-Sauvignon, and Cabernet Franc grapes.
On this tour you'll learn how the vinters (wine makers) assemble these grapes to make their own uniquely harmonious wines.This adventure is all about learning to appreciate the unique "terroir" of Saint Emilion. To do that you'll be visiting two Chateau wineries with the Grand Cru and Grand Cru Classé titles. You'll walk through the vineyards, see the grape press, learn about and tour a monolithic limestone cellar full of oak barrels and thousands of bottles of wine.
But the best part is the personal welcome that you will receive at both wineries. You'll see passion in person and learn about the real people who make the wines of this region so remarkable. At both Chateaux you will be invited to taste from several different wines. You will enjoy at least 6 tastings from different cuvées and learn how to pair them with chocolate!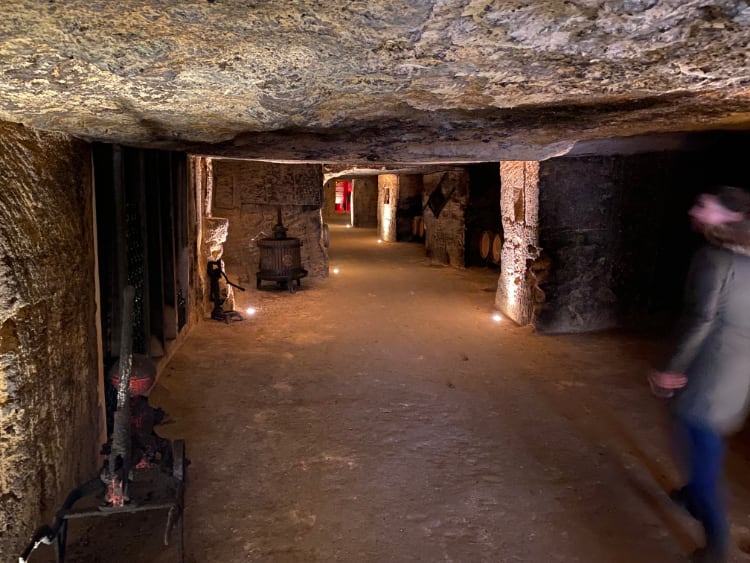 Merlot grapes and a Limestone Cellars
This adventure will start when you meet up with your guide in front of the Tourism Office in Bordeaux. Our small team of expert guides has only witty and charming people in it. All of them truly enjoy sharing the history of Bordeaux and it's amazing wines with others. So you can be sure that the tour will be fun, interesting, and full of humor.
The drive to the first Chateau is only 45 minutes long. You'll be riding in comfort in one of our brand new, 8 passenger vans with big, forward facing, seats and fresh air conditioning. Your first stop of the day will be at a father and daughter Grand Cru Classé winery with an impressive, monolithic, limestone cave full of Oak barrels.
You'll tour their mostly Merlot vineyard and learn about their family history dating back to 1847 as well as their winemaking process that uses mostly Merlot and some Cabernet-Franc grapes. Here you'll learn how the soil and seasons affect the grapes and the vintages and be able to taste 3 of their most prestigious wines and learn how to pair them with chocolate.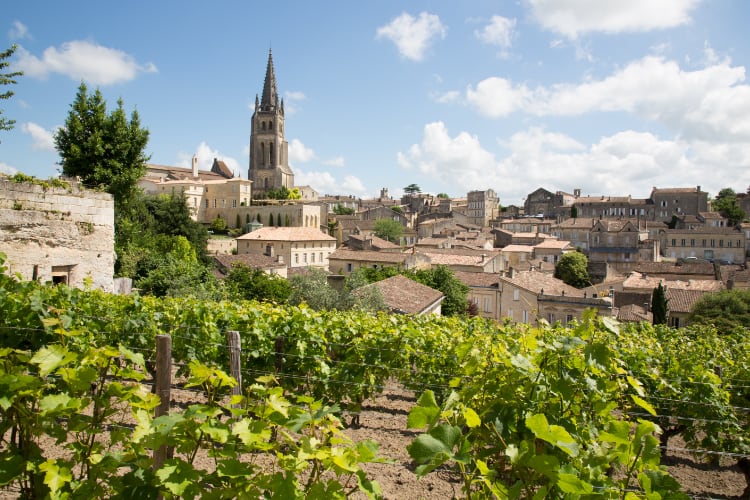 The Medieval Town of Saint Emilion
Then you'll be off to explore the charming little town of Saint Emilion which gave its name to the region. The picture perfect, hilltop, town of Saint-Emilion is a UNESCO World Heritage site. Saint-Emilion was founded in the 800's and has a long and interesting history to discover.
Your guide will share about the monk named Emilion who, while trying to get away from the world in order to be a hermit, accidentally founded the town when he started doing miracles. You'll see the picturesque views from the top of the hill over the dozens of vineyards that surround the town and sigh in appreciation.
Then you will have free time to wander through the little cobblestone streets of this medieval town and see for yourself what makes it so unique.This town is full of charm! Saint Emillion will really open your eyes to just how adorable towns in the French countryside can be. After you've finished exploring the town you'll be on your way to the second Chateau of the day and more amazing wine.
Grand Cru Vintage Wines
After the visit to the town of Saint Emilion you'll be off again into the countryside to meet another charming winemaker and tour their unique vineyard. It will certainly be one with a Grand Cru title and a unique way of making wine. We believe that it is important to see the differences between one winery and another. As not all vintners go about making wine in the same way!
Some prefer to use all new organic processes while others use more traditional means. Some use cement aging vats while others prefer stainless steel or even to use giant wooden vats. Each vintner and their techniques are slightly different but all are charming, welcoming, and proud to share their way of making Grand Cru wines.
Each Vintner has his or her own story of how and why they became wine makers and the encounter that you will have with them will be authentic and genuine. We want you not only to appreciate their wine but also the unique stories behind each flavorful sip of it. To help you do that you will be invited to taste at least 3 wines from several different millesime or vintages at the same chateau.
Good to Know:
No meals are included in this tour. You can eat lunch/dinner once you get back to Bordeaux.
It is possible to buy wine at all the wineries we visit during the tour.
While our guides do accept well aged wines as proof of gratitude for a job well done, it is often easier just to remember to bring along a little cash and give a traditional "tip" at the end of your tour.