Enjoy a day in the French countryside exploring three remarkable chateaux in the Loire Valley. Join our small group tour from Paris and discover the beautiful renaissance castles of Chenonceau, Chambord, and Amboise!
Wander through the lovely flower gardens of Chenonceau and gaze at its delicate arches which cross over the Cher river. Visit Amboise, the castle on a hillside, and admire the fantastic vista views over the valley. Marvel at Chambord and admire its extravagant renaissance architecture said to be the work of Leonardo Da Vinci.
This tour is far from being a humdrum history lesson! You'll learn about each castle's history in a fun way as our guide shares little known facts and focuses on making your tour entertaining and memorable.
You'll appreciate free time to explore inside each castle at your own pace and visit a charming medieval town for the lunch break where you can eat in a local café, bistro, or bakery of your choice.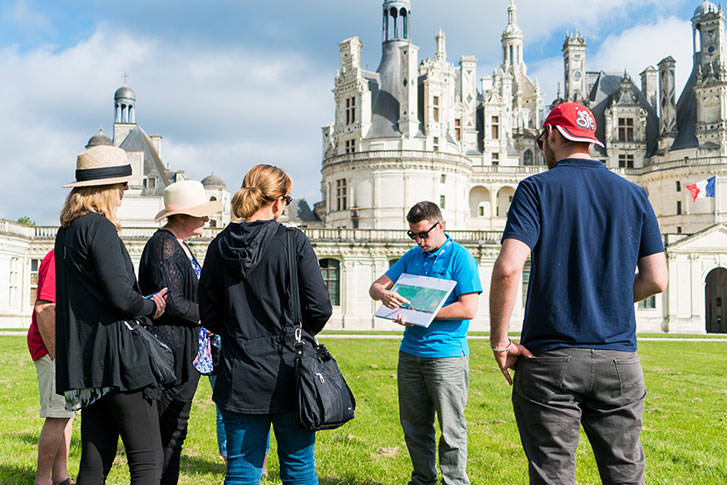 Three Amazing Castles in One Tour
The Loire river valley is famous for its beautiful countryside and its high concentration of amazing Renaissance style chateaux. On this tour you'll visit three of the most stunning and historically interesting castles: Chenonceau, Amboise, and Chambord. We'll treat you like royalty in our small group tour, and give you the attention you deserve, as we never take more than 8 participants per group.
You'll meet up with the guide in Paris close to the Arc de Triomphe in Paris (exact details will be in your booking confirmation) and head to the Loire Valley in our Volkswagen Caravelle van. Our vans have big windows, fresh A/C, and comfortable leather seats so you can ride in style. The drive to the Loire valley will be less than 2hrs long and the first castle you'll visit is Chambord.
Chambord, the Majestic.
There is no castle in the world like Chambord Chateau as every one of its 420 rooms is full of intricate stone carvings and authentic details. You'll learn about the passion King Francois 1st had for the construction of this very unique castle which became the largest in the Loire Valley. You will have one and a half hours of free time to explore inside it.
Although the official architect of the castle remains a mystery, everyone recognizes the genius of Leonardo Da Vinci in the remarkable double helix staircase and the amazing rooftop terrace adorned with hundreds of ornate chimneys, towers, and pointed spires. You're sure to be impressed by this massive one of a kind castle.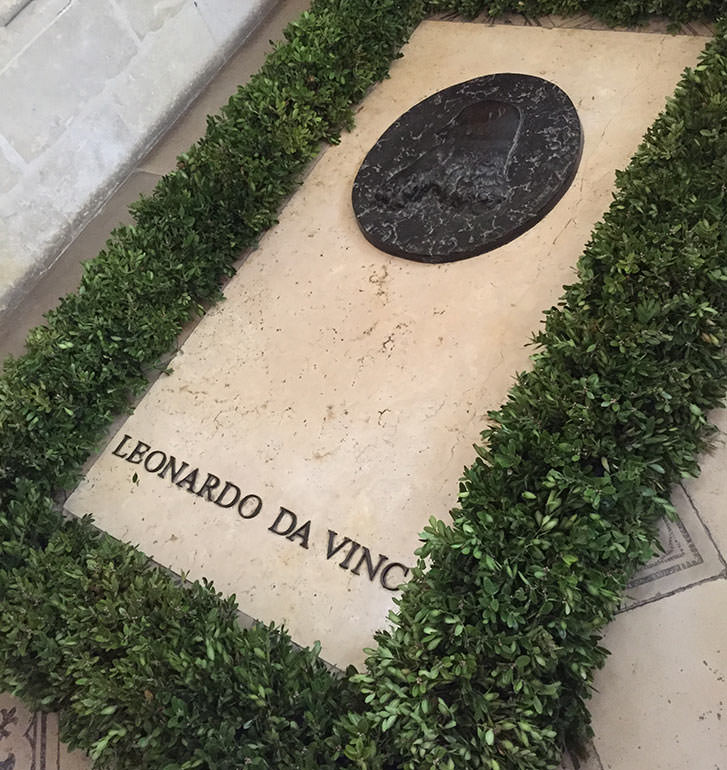 Amboise, the Ancient
Only a short scenic drive from Chambord is the charming medieval town of Amboise with its fortress of a castle. Since the 1400s, Amboise Chateau has been perched on a hillside strategically overlooking the Loire river valley. You'll learn its fascinating history including how it has seen the birth and death of many French kings, and became the final resting place of Leonardo Da Vinci. Unlike other tours that hurry visitors along, you'll love having a free hour to explore this castle and appreciate the view that it offers you of the valley and town below.
For lunch, you'll have free time to walk the Medieval town filled with tiny winding streets, wood and plaster homes and unparalleled local charm. The guide will show you a special part of town, only accessible by foot, and there you'll be able to choose from a dozen little cafés, bistros, and bakeries for your lunch break, which will last an hour.
You'll participate in a small tasting of the local famous wines
Chenonceau, the Charming
After lunch you'll discover to Chenonceau Chateau. Known as the Ladies' Castle, this Chateau is a favorite for many. Stretching over the Cher river in a seemingly impossible and mystical manner, its appearance is nothing short of breathtaking. Beyond Chenonceau's architectural wonder, it offers up some of the most striking gardens in the Loire Valley.
Learn about the famous Catherine de Medici and Diane de Poitiers who made this castle their own. You'll have an hour and a half of free time to roam the castle and stroll through the gardens. The rare history and stunning beauty of this delicate castle is sure to mark your spirit and rest in your memory.
The drive back to Paris takes approximately 2 hours and 15 minutes and includes a rest stop half way through. The tour will finish back in Paris around 8pm, next to the Arc de Triomphe and the Champs-Elysées Avenue where you can find lots of great dinner options.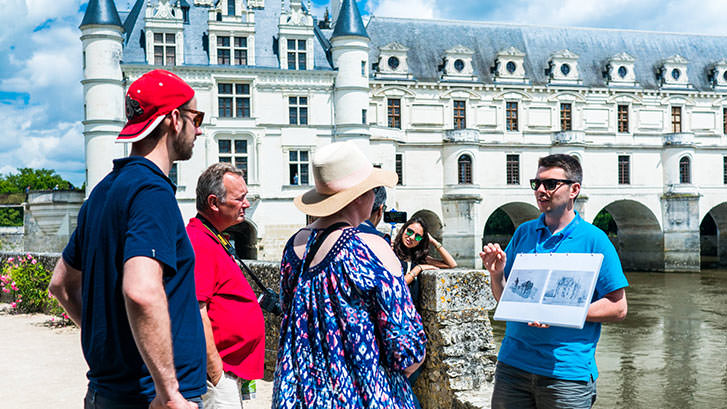 Good to Know:
Our meeting point is easy to find and details will be in your booking confirmation email.
At Chenonceau Castle, during your free time you will be able to use an audio-guide to have more details about each room.
Restrooms are available at every castles and stops we make during the drive to and from Paris.
Lunch is not included in our tour price. Plenty of food options in Amboise, where we stop for the 1hr lunch break.
Gratuities (aka "tips") are never obligatory but they are welcomed by our guides.