Our Amazing Race Bike Tours were created specifically for families with young cyclists. These tours have bright red envelopes to open at each stop, golden coins to collect, as well as souvenir medals to take home at the end of the tour. They'll capture your kids attention, keep them engaged, and create opportunities for your whole family to play together and bond.
An Amazing Race Bike Tour can be run on either our "Best of Paris" route or our "Latin Quarter + le Marais" route. On either route you'll make a pit stop on a market street for your lunch break where our local guide will help you to pick out the best French things to eat, no matter what your budget.
Everyone knows cycling is fun, but sometimes parents are hesitant to book a bike tour with their kids. To help take the uncertainty out of the decision making process we guarantee that all of our Amazing Race Bike Tours are safe for young cyclists and fun for all ages. So, join us on an Amazing Race! We're sure that if you do, you'll make memories that will last a lifetime
Choose your route:
On our "Best of Paris" route we focus on all of the most famous monuments in Paris. Some of the highlights on this route include: The Eiffel Tower, The Louvre, Notre-Dame Cathedral, the Orsay Museum, and the place where we cut off Marie-Antoinette's head! This route also cycles under several beautiful bridges on the banks of the Seine River.
On our "Latin Quarter + Le Marais" route we stay away from the famous and focus on the lesser known charms of Paris. Some of the highlights on this route include: The Shakespeare and Co. Bookstore, the oldest café in the world, Street art displays, and a 2000 year old Roman arena. This route also cycles past the Luxembourg garden and on the rue des Rosiers.
The Best of Paris vs. The Latin Quarter + Le Marais
Most of the "Best of Paris" route is on dedicated bike paths, in open parks, in the courtyards of monuments, and along the river banks where no motorized traffic is allowed to go. The rest of this tour is run on quiet back streets and clearly marked bike lanes. Making it our safest and easiest to cycle route and great for all ages of kids.
All of the "Latin Quarter + Le Marais" route is on small, typically Parisian, backstreets. There can be light traffic on this route but in general there are more pedestrians than cars. While the route is very safe it can be slightly more tricky for very young cyclists to navigate (cobble stones). So, if your kids are under 10 years old, and want to cycle solo, we do not recommend choosing this route.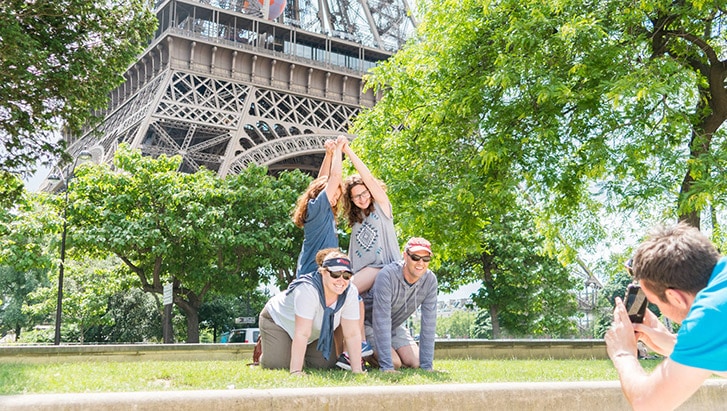 Similarities and Starting Times
On all of our private tours we make a stop on a market street. The "Best of Paris" route has Rue Cler and the "Latin Quarter + Le Marais" route has Rue de Buci. Both market streets are mostly closed on Mondays. If visiting the market at its peak is important to you, please make sure you choose to reserve your tour for another day of the week.
Finally, we always do our best to be as flexible as possible in accommodating scheduling needs. Our guides can start a private tour, any morning between 9am - 11am OR any afternoon between 2pm - 3:30pm. However, tour dates tend to book up fast. So, please book as early as possible to ensure you get the tour date and starting time that suits your family the best.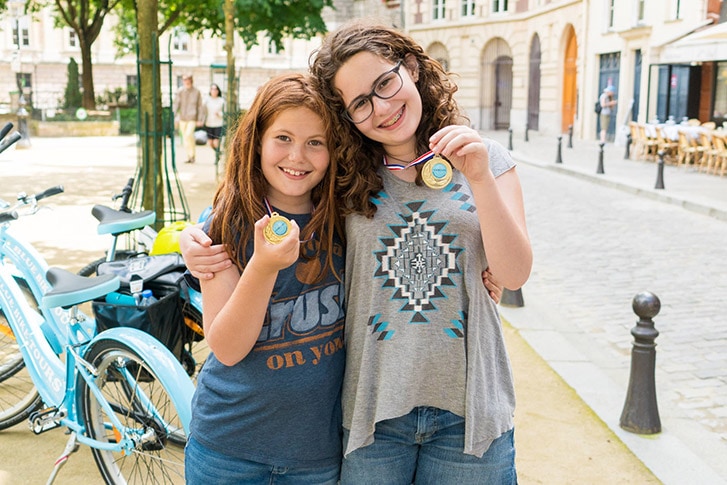 Good to Know:
We have cool tandem attachments for kids that are between the ages of 5 and 10 years old.
We have comfy baby/child seats for kids that are 6 months to 4 years old.
We have helmets for all sized heads and also florescent reflective vests if you want your kids to look funny.
Food and drinks are not included in our tour prices. So, bring along some cash to use when you stop for the lunch or afternoon snack break on the market street.
We also offer traditional private tours on all of our routes. So, if you have older kids, who don't need any help getting excited about history, choose a traditional private tour.