Our Paris Bike Tour: the Secrets is a truly local experience. It was designed by our founders who have lived in and explored Paris for more than 30 years. This tour is for anyone who wants to get to know Paris' off-the-beaten-path charms and see what makes it so captivating to us locals.
On this tour we'll take you away from all of the big monuments and show you the charming Latin Quarter and the quaint Le Marais neighborhoods. On your Blue Bike™ you'll cycle on back streets and discover hidden secrets, ancient ruins, and the oldest café in the world, all the while learning funny and eccentric historical details about the real Paris and its population.
A tour like this can only be given by a true local who knows and loves their city. So let one of our guides show you around and help you to see the unknown ways in which Paris really shines!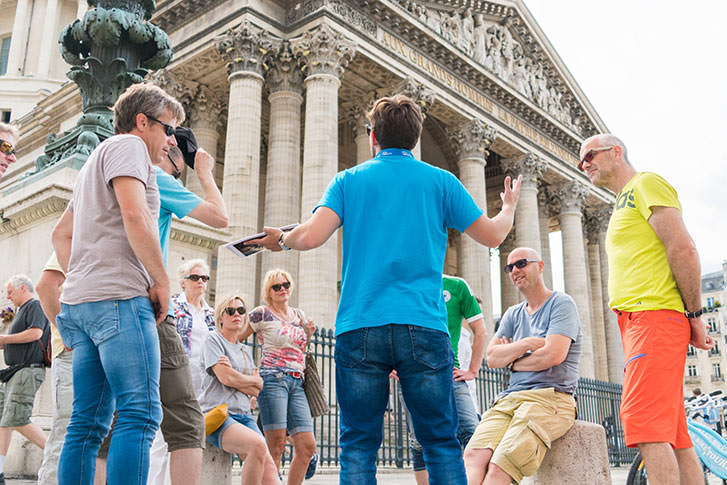 Paris secrets and street Art
The Paris Bike Tour: the Secrets stands out from our other bike tours as it dives deeper into what makes Paris so unique aside from its monuments and museums. This tour takes place entirely on back streets so you'll see a more authentic and charming side of Paris, one that most tourists only dream about finding.
You'll pop into a 400 year old building and explore the book lined walls of the Shakespeare and Co. bookshop. On your Blue Bike™ you'll cycle past the oldest tree in Paris and into the alleys of the Latin Quarter you'll learn about the Street Art movement in Paris. That way you'll recognize some of Paris' most celebrated street art such as the Space Invaders and the many faces of Gregos which pop out from our city's walls.
Oldest Café in the world and the Pantheon
Wandering into a covered passageway you'll look through a window and see pastry chefs creating delicacies. Then you'll realize you're standing in front of the oldest café in the world, a place where a revolution was planned and where Benjamin Franklin penned some of the Constitution of the United States.
Cycling through the market street of Rue de Buci you'll smell the fresh baked goods and see thousands of fresh fruits and flowers all around you. You might notice a shop that has been making tiny lead soldiers since the 1700's and wonder how they can still be there after 250 years. That's when you'll remember you're in Paris and this place is magic.
You'll have a chance to learn about and explore inside the fascinating church that Dan Brown used in his "Da Vinci Code" where you'll find the Rose Line for yourself. Leaving the church behind you'll go up an alley and read a backwards poem on the wall about a drunken boat then cycle alongside the beautiful Luxembourg garden. You'll pause at the Pantheon, the final resting place of the most beloved "Great men and women of France" such as Victor Hugo and learn of their lives and legacies.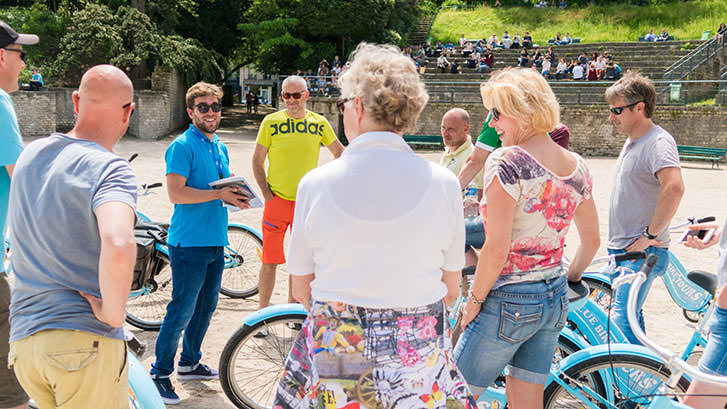 Roman Arena and Le Marais
Taking a break on rue Mouffetard you'll admire the little crêpe shops, awesome french bakeries, and local café ambiance that is well off the beaten tourist trail. You'll be able to choose whatever pleases you the most for your lunch and have 30 minutes to enjoy it.
Once finished with the break the adventure continues as the guide leads you to the center of our 2,000 year old Roman Arena and then across the Seine river into the historically Jewish neighborhood of Le Marais.
You'll admire the lovely pedestrian street of Rue des Rosiers with all of it's local boutiques and kosher restaurants then head into the most beautiful square in Paris, the Place des Vosges where the red brick and green trees will show a different side of Paris.
This tour is an excellent tour in and of itself but also a wonderful complement to our Best of Paris Bike Tour which will already have introduced you to the main monuments of Paris and some of the most important historical facts. So, please, don't try to choose between them. We'll give you a discount if you book them together (see Special Offers).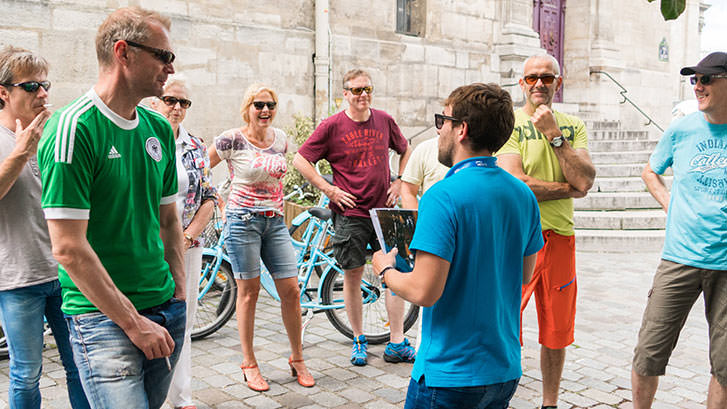 Good to Know:
The Paris Bike Tour: the Secrets is 100% different from our other bike tours in Paris. None of the route or stops are the same.
The tour will finish very close to where it started next to the Saint-Michel Fountain.
Gratuities aka "tips" are never obligatory but always welcomed by our guides.