Breeze by the walking and bus tours on a Blue Bike™ and get up close and personal with Paris' top Monuments in a fun and easy way! You'll take home some of the best photos and memories of your entire trip.
Discover and learn about the Eiffel Tower, Notre-Dame, the Louvre, the Champs-Elysées, and many more amazing Paris highlights in half the time of a walking tour. Your local guide will tell you stories, share little known fun and historical facts, and let you in on many shortcuts and local tips.
Happy to answer any questions you might have about Paris, we'll help you get your bearings and teach you how to make the best use of your time here.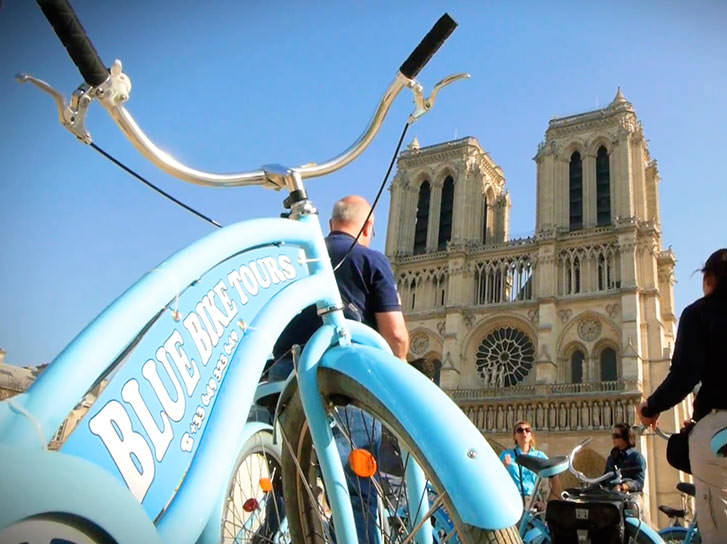 An easy and safe ride through Paris
On our Paris Bike Tour: the Highlights we focus on showing you all of the main highlights of our beautiful city in a fun and interactive way. Our local guide will make sure that you get a real feel for how the city works and will share tips and advice about how to make the best use of your time in Paris. We are sure you won't find a more fun or stress free tour that will show you all of Paris' main monuments in only 4hrs.
With 20+ years of experience cycling in Paris our founders designed this tour to be good for everyone! That is why this tour takes place mostly in parks, large courtyards, along the river banks and on bike paths. That means you don't need to be a cycling expert to love this bike tour. You just need to know how to ride a bike with confidence and enjoy cruising past the walking tourists.
Notre-Dame Cathedral, Musée d'Orsay and the Seine river
The Paris Bike Tour: the Highlights takes you to Notre-Dame Cathedral where you'll learn about the famous gargoyles. You'll then cycle to the Musée d'Orsay where the greatest impressionist paintings hang. Afterwards you'll coast along the banks of the Seine River and stop to learn about the magnificently gilded Pont Alexandre III bridge.
Leaving the Seine River behind you'll ride to the Hotel des Invalides and learn about the most famous general France ever had, Napoleon Bonaparte. Then you'll experience a taste of the back streets of Paris and stop at the market street named Rue Cler for a lunch/snack break. Rue Cler has over 10 different cafés as well as food stalls with all kinds of tasty French specialities. You'll have 30 minutes to explore the market and eat something enjoyable for your lunch.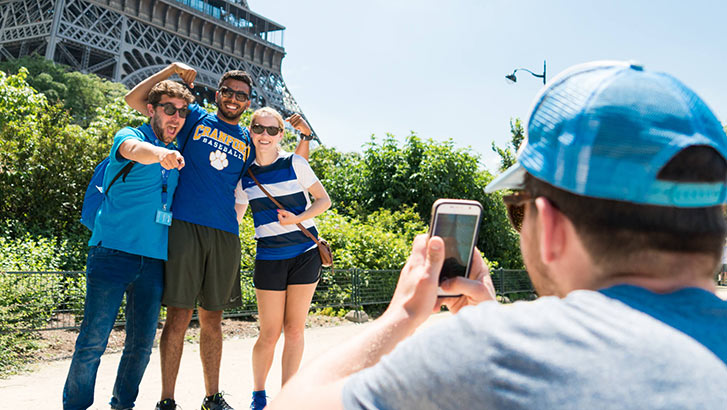 The Eiffel Tower and the Champs-Elysées Avenue
After the break you'll be taken to the foot of the Eiffel Tower where your guide will share fun and interesting stories of its more than 125+ years of history. Leaving the Eiffel Tower behind you'll cycle under tree lined bike paths until you reach the stunningly beautiful Grand and Petit Palais buildings and learn about the part they played in the World's Fair of 1900.
On your Blue Bike™ you'll then cycle alongside the famous Champs-Elysées Avenue and stop to hear the history of the guillotine and Marie-Antoinette at Place de la Concorde. Followed by another lovely ride under a tree lined path alongside the Tuileries Gardens. The tour culminates in your visit to the vast and majestic Louvre Museum where you'll learn all about the museum itself and many of the masterpieces inside of it such as the Mona Lisa.
This tour is the ultimate introduction to Paris, as it will amuse and educate at the same time, and that's why we're sure you'll love it!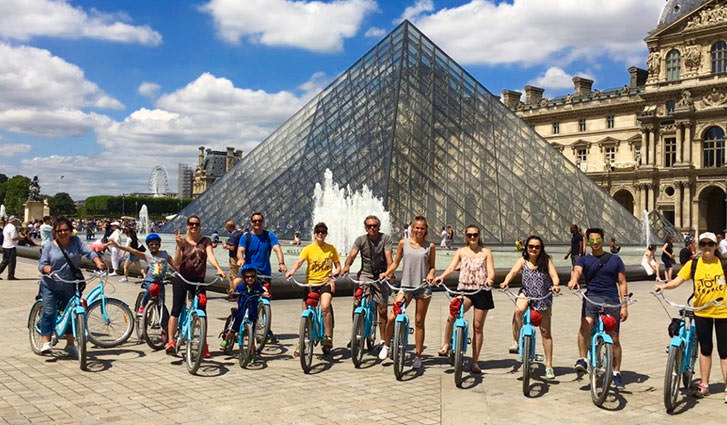 Good to Know:
This tour visits more than a dozen wonderful monuments, museums, and world heritage sites so there is not enough time to take you into any of them. Don't worry though, the guide will stop at each site to share it's history with you and you'll have plenty of time to ask questions and take awesome photos.
This tour ends very close to where it began in the center of Paris near the Fountain of Saint-Michael, next to Notre-Dame Cathedral.
Your lunch or snack on Rue Cler is not included in our tour price.
Gratuities aka "tips" are never obligatory but are always appreciated by our guides.