Our Omaha + Utah Beach tour from Bayeux is outstanding. We want you to better understand the remarkable acts of bravery and self sacrifice which took place during the battle for Normandy. On this tour you will walk on both Omaha and Utah beaches. You'll visit the American Cemetery and pay your respects to fallen heroes. You'll climb into huge German Bunkers. You'll also see: a paratrooper (doll) stuck on a church steeple, massive bomb craters, and 110 foot tall cliffs.
Our Omaha + Utah Beaches Tour from Bayeaux is our most complete experience of the sites that were crucial to capture during the D-Day landings in Normandy. Our tour starts in central Bayeux. The first stop on this tour will be at the German command bunker at the Longues-sur-Mer Battery.
You'll climb into the command bunker and learn about the "Atlantic Wall" fortifications that the Germans built in order to keep the Allied troops out of France.You'll tour the casemates with their 6 foot thick cement walls and massive 150mm guns that fired on Omaha beach during the D-day landings. Then you'll head down to Omaha Beach.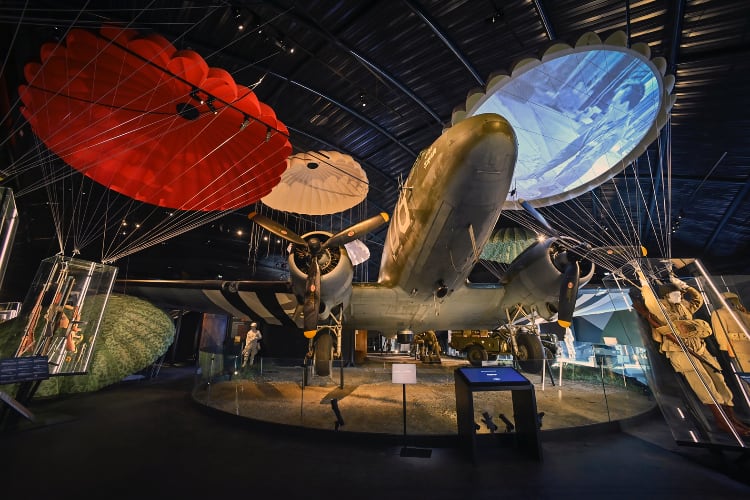 The American Cemetery and the Pointe Du Hoc
After your visit to the Overlord Museum you'll be taken to pay your respects to those who sacrificed everything at the American Cemetery in Colleville-sur-Mer. Together you will walk amongst the 9,388 white marble tombstones. You'll learn about 3 Medal of Honor recipients, the Niland brothers (whose story inspired the movie "Saving Private Ryan"), and many more brave men and women who are buried in the American Cemetery.
Once you have finished your visit to the American Cemetery you'll be taken to a local restaurant for a one hour long lunch break. Your lunch is not included in our tour price but we are sure that there will be something on the menu that fits both your taste and your budget. We suggest planning on spending 15-20€ per person for a full lunch including your drinks.
After lunch you will be taken to the Pointe du Hoc. Here the Army Rangers were ordered to scale a 110ft tall, crumbling, cliffside in order to capture some anti-aircraft guns and big 155mm guns that pointed towards Omaha Beach. It was hell on them. You'll learn why from your guide as you peer over the cliffside at the raging sea below it. Here you will also be able to see some of the massive bomb craters which Allied bombers made only days before D-day. They still scar the ground today.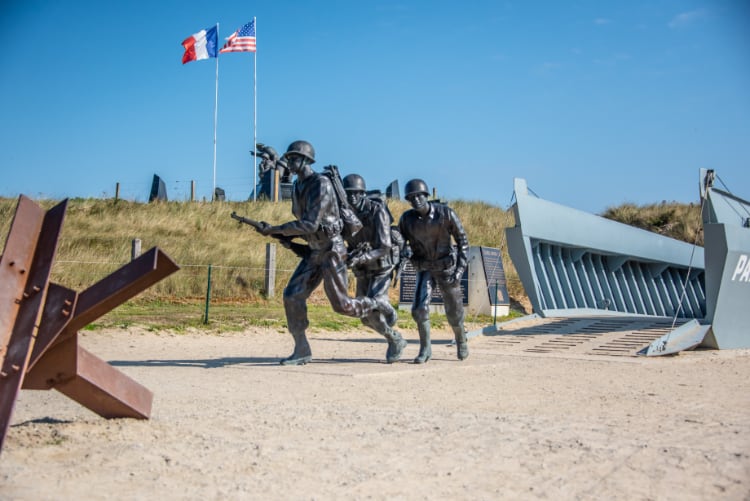 Sainte-Mere-Eglise and Utah Beach
Then you'll be off to visit the quaint little town of Saint-Mère-Eglise where a paratrooper from the famous 101 Airborne Division (Band of brothers) got stuck on the steeple of a church. In Sainte-Mère-Eglise they have a saying: "Our salvation came from the heavens." Here you will be able to visit the Airborne Museum and see an actual C-47 plane that dropped paratroopers on D-day. You'll also be able to board the only original wooden WACO glider that remains in France today.
You'll learn about the vital role the paratroopers played in securing key points that could not be reached by soldiers who landed on the beach. Then you'll be driven to Utah Beach the westernmost of the landing beaches. Here the US Navy and the US Coast Guard enabled 21,000 soldiers of the US Army's 4th Infantry Division to storm the beach on D-day. You'll learn about the trials and surprises they faced as they fought back the Germans to secure the beachhead.
After this full day of exploration and retracing of the heroic deeds and deaths of so many men you'll be given a small moment of sweetness to bring you back to the reality that you are on vacation. Our final stop of the day will be at a family run Cidery where you will be able to meet a charming local who will invite you to taste the famous Normandy Hard Cider.