Retrace the footsteps of the Canadian troops who fought for the liberation of France on this small group day trip to Juno Beach and the D-Day sites of Normandy. On this tour you'll walk the sands of Juno Beach, explore inside German bunkers, visit the Juno Beach Center, and pay your respects to those who sacrificed everything at the Bény-Sur-Mer Canadian Cemetery.
On June 6th, 1944 the largest seaborne invasion ever attempted in history took place. The Allied troops waged an extremely difficult attack on the German forces who were entrenched in bunkers along the coast of Normandy. More than 14,000 Canadian soldiers landed or parachuted into France on that day. Though the soldiers knew that they were fighting against the odds they carried on with courage and helped to win the battle for Normandy.
Whether you're a great admirer of military history or someone who is just curious about how the events really played out on D-Day, this tour will help you to better appreciate the remarkable acts of courage and bravery that took place on Juno Beach. For they are well worth learning about and being remembered by all free folk today.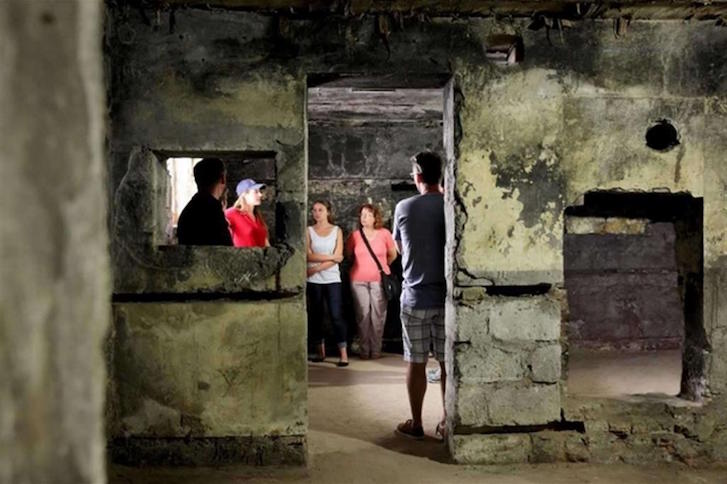 Juno Beach & Juno Beach Center
Meet up in the morning with your guide close to the Arc de Triomphe in Paris and head off in a small group of 8 people to retrace the amazing events of D-Day and the Normandy Invasion. Juno Beach is only 2 hours away from Paris! You'll enjoy the ride through the beautiful French countryside in our luxury van with leather seats and A/C.
Arriving in Normandy you'll get right to the point by following your guide down onto the sands of Juno Beach. Using detailed maps and pictures your guide will explain how the landings unfolded. You'll even see the famous "Canada House" said to be the first house liberated by the Allied Troops on D-Day.
Then you'll visit the Juno Beach Center in Courseulles-sur-Mer. It is the most comprehensive museum detailing the Canadian operations in Normandy. After your visit of the Museum is over you'll follow one of the official Juno Beach Center guides into two of the original German bunkers that had been part of the Atlantic Wall. These bunkers, normally closed off to the public, are a real treat to be able to explore!
Canadian Cemetery, Hell's Corner and Ardenne Abbey
When you're done exploring the German bunkers it will be lunch time. The guide will take you to a nearby restaurant that has many local specialties, all very reasonably priced. You'll be able to choose whatever your taste and budget allows directly off of their menu. It has fresh seafood, salads, and meat dishes as well as savory and sweet crepes. You'll have one hour to rest and enjoy your lunch.
You will then visit the Canadian Cemetery in Beny-sur-Mer and learn the personal stories of some of the more than 2000 Canadian men who are buried there. Afterwards your guide will take you to Hell's Corner, the furthest point reached by Canadian troops on D-Day. Hell's Corner is located only 5km from the city of Caen, which was the actual objective for the Canadian troops on D-Day.
Due to the ferocious defenses of the Germans it took the Allied troops another 30 days to reach Caen itself. During the battle for Normandy 156 Canadians were captured and then executed in cold blood by a group of fanatics trained as "Hitler Youth". At the Ardenne Abbey you'll pay your respects to some of these men who died unjustly during the Ardenne Abbey Masacre.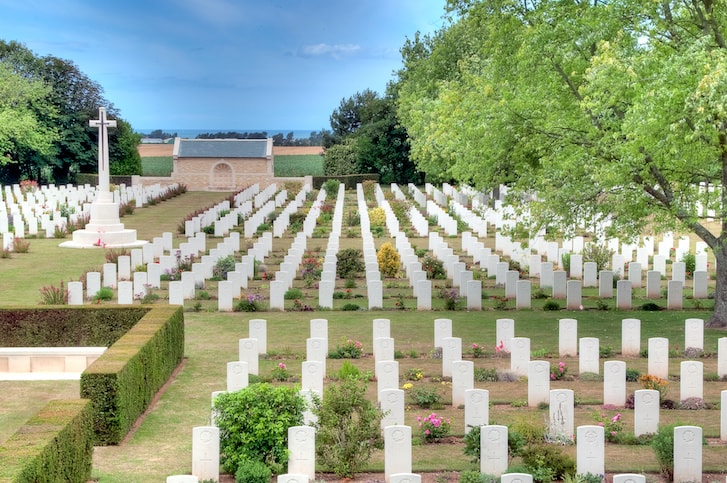 Atlantic Wall Museum
Afterwards you'll have free time to explore inside of The Grand Bunker: Atlantic Wall Museum. This museum is inside of the 5 story tall former Shooting Command of the German forces and has an amazing panoramic view over the English Channel. It's collection details the Atlantic Wall's impressive defenses and also has individual soldiers gear, landing craft, and an M3A3 Stuart light tank!
The ride back to Paris will take a little over 2 hours long and will include a stop for you to use the restroom and stretch your legs. You'll arrive back in Paris at about 8pm and say goodbye to your guide next to the Arc de Triomphe.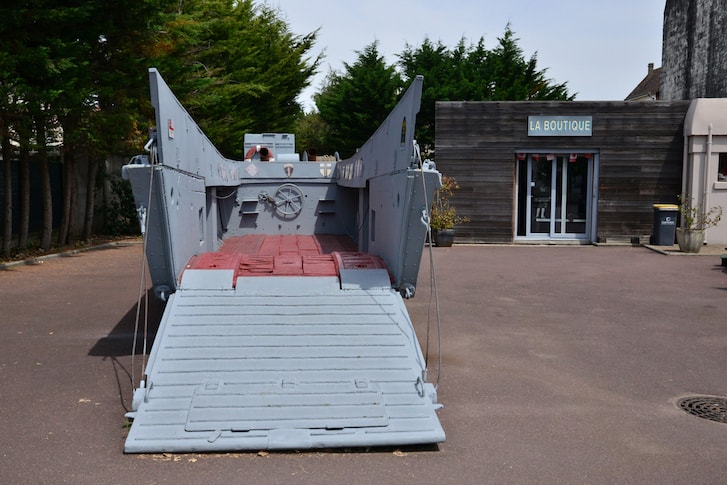 Good to Know:
Our meeting point is right next to the Arc de Triomphe. The exact address will be in your booking confirmation email.
Restrooms are available at most stops we make on the tour. Plus we always make a rest stop during the 2 hour drive to and from Normandy.
Your lunch is not included in our tour price. We will stop for a 1 hour lunch break at a great local restaurant, but you can bring a cold lunch if you prefer.
In France tipping is called giving a "pourboire". All hardworking guides greatly appreciate tips.