Discover two of the most iconic homes and gardens in France on this small group day trip from Paris! In Versailles you'll visit King Louis' opulent Palace, see the Musical Fountain Show in the French Gardens, and explore the private Hamlet of Queen Marie-Antoinette. In Giverny you'll discover for yourself the inspiration Claude Monet found in his flower filled Clos Normand garden, his Japanese styled Water garden and colorful home of more than 40 years.
Giverny and Versailles are less than a 1 hour drive west of Paris, so combining them both into a one day trip is easy and relaxed. This tour starts with the calm and almost otherworldly beauty of Claude Monet's Home and Gardens in Giverny. Learn about the famous Impressionist artist and then enjoy free time to explore inside his vibrantly colored home, stroll along the charming paths of his flower garden, and admire the water garden with the lake full of his famous water lilies.
In the afternoon the guide will share the scandals surrounding the French Revolution and Marie-Antoinette during your visit to her private farm village (hamlet) and explore the famous French Gardens while the spectacular Musical Fountains Show is running. You'll then have free time to explore the Palace itself seeing the stunning Hall of Mirrors and so much more at your leisure.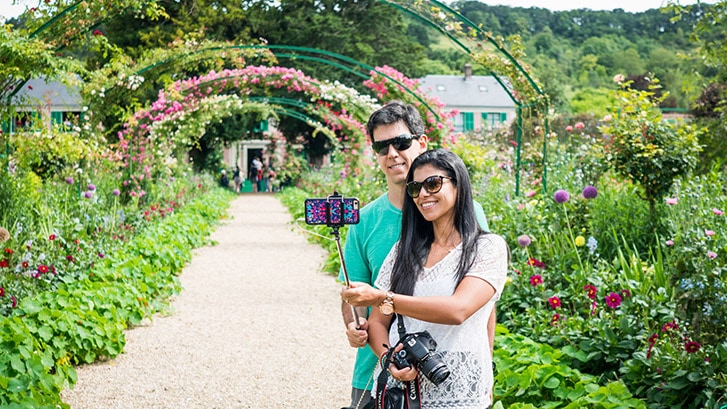 Only minutes from Paris!
Start your day of exploration with a short 45 minute drive through the countryside from Paris to Monet's Home and Gardens in Giverny. You'll be one of the first to visit the estate as we arrive at the very opening of the gardens! You'll love the calm and artistic aspects of the garden.
Inside the gardens our guide will share interesting stories about Claude Monet's life and give details about some of the paintings inspired by his home and gardens in Giverny. Then you'll enjoy 90 minutes of free time to explore the interior of Monet's brightly colored home and stroll through his gardens at your leisure.
Inside his home, of more than 40 years, you'll see his personal rooms as well as the artistic studio where he put the finishing touches on thousands of his works. There are also many pieces from other great artist friends, such as Renoir and Pissarro, and a large collection of Japanese block prints in blue to admire on the walls of Monet's home.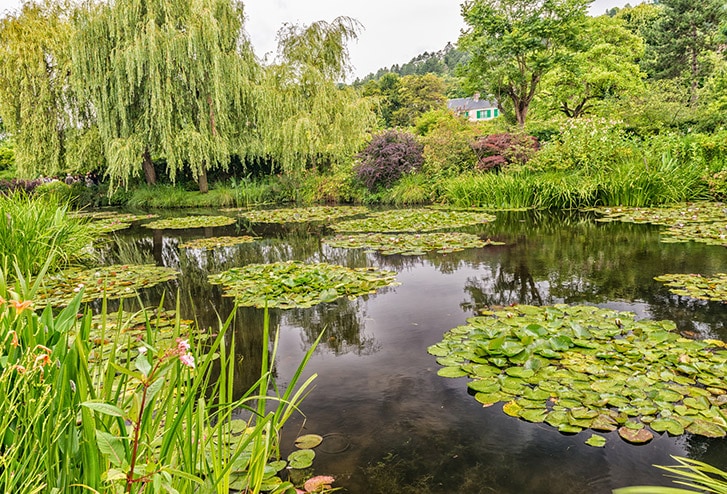 Monet's Gardens and Final Resting Place
Outside of the house you'll marvel at the lovely gardens designed by Claude Monet himself. You'll admire the thousands of beautiful flowers in the Clos Normand garden and you'll feel as though you're walking in one of Monet's famous Nymphea paintings in his Japanese styled garden where the colorful water lilies fill the lake with delicate charm.
lived in them. As such this tour makes a special stop at the charming little church of Sainte Radegonde where Claude Monet worshipped on Sundays. There, hidden in the little graveyard, you'll see the humble gravesite of Claude Monet and have a chance to pay your respects in person.
Afterwards you'll have a 30 minute drive through the lush green countryside to the town of Versailles for a very different adventure in a gilded Palace with a stunning French Garden full of statues, perfectly trimmed hedges, and fountains that dance to music.
Versailles: the Magnificent
In Versailles you'll have a 1 hour lunch break at a trendy French creperie near the Palace. They have dozens of great options for all types of diets and everything on their menu is very reasonably priced between 5€ and 15€. After lunch your guide will take you to Marie-Antoinette's Private Domaine and share her life story with you. Then you'll have free time to walk among the adorable thatched roof buildings and farm yard full of cute ducks, sheep, and donkeys.
Then you'll tour the famous French Gardens together enjoying the Musical Fountain Show and perfectly trimmed topiaries. As you explore the French Gardens you'll learn about what really happened during the French Revolution and why Marie-Antoinette lost her head to the guillotine.
Last but not least you'll visit the Palace itself where you'll be able to visit at your own pace with an audio-guide. The glittering gold and luxurious decorations are sure to impress you and you'll marvel at the elegance in the famous Hall of Mirrors. At the end of your visit to the Palace you will be brought back to Paris in comfort in our luxury van.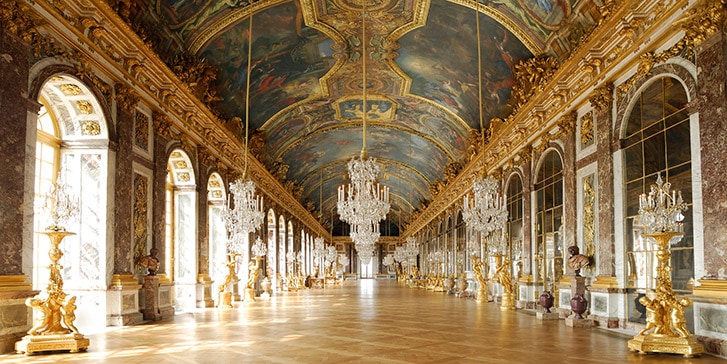 Good to Know:
This tour requires that all participants are able to walk well, even on hot summer days. If you have trouble walking or get faint in the hot sun then this is NOT a good tour for you.
Due to the parking arrangement in Versailles it is REQUIRED to walk through the French gardens after having visited the Chateau of Versailles. It is not possible to skip them.
This tour starts and finishes in Paris next to the Arc de Triomphe. The exact meeting point will be given in your confirmation email after booking.
Food and drinks are not included in our tour price. There are many great options, all with very reasonable prices, for you to choose from at the creperie where we stop for lunch in Versailles. All dietary restrictions can be met for vegetarians and people who require gluten free food.
There will be opportunities to go to the restroom, several times, during this tour.
At the end of the tour if you want to show some gratitude to your guide please know that they do appreciate tips.