Go back in time and visit Mont Saint Michel on this small group day trip from Paris. First settled in the year 709 this mountainous island has a charming medieval village and is crowned by a beautiful Abbey fortress that is dedicated to Saint Michael the Archangel. The whole island is classified by UNESCO as a world heritage site and it hasn't changed much since the Middle Ages!
For centuries the Mont Saint Michel has been the focus of pilgrims from all over the world. Travelling from near and far, many walking for weeks to see this beautiful island and visit the Abbey at its peak. Mont Saint Michel was and remains a one of a kind site to visit in France and throughout the world. Luckily today we don't have to walk as much to enjoy it!
Join our small group tour and enjoy a comfortable ride from central Paris right to the island. As you walk through the medieval streets your guide will share stories and legends about this amazing one of a kind island town and once inside the Abbey you will be able to explore at your own pace, with an audio-guide. You'll also enjoy free time to explore the village and eat lunch in one of the many great restaurants available.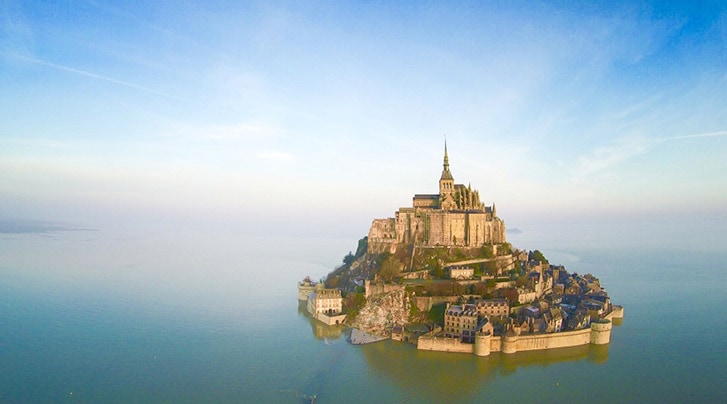 Getting to Mont Saint Michel
The adventure begins when you meet up with your guide next to the Arc de Triomphe and take your seat in our luxury van. You'll be in a small group with only 8 people and ride in our brand new van that has comfortable, forward facing, leather seats, wide clear windows, and of course fresh clean air conditioning. The ride to Mont Saint Michel takes about 3 hours and includes a rest stop half-way through the drive so you can take a coffee break and use the restroom.
Once you arrive in Normandy at the seaside you'll park the van and cross the bridge that takes you from the mainland to the island of Mont Saint Michel itself where motor vehicles are not allowed. As you walk slowly up the mountainous island with your guide you'll walk on the rampart walls and the charming little streets of the medieval town with your guide.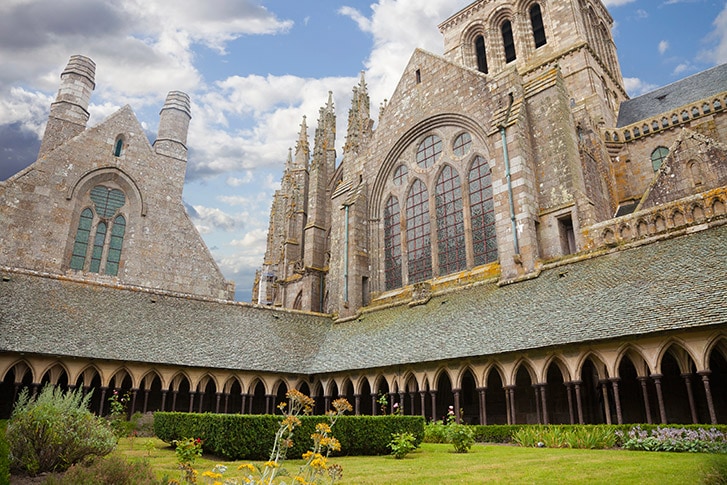 Free Time in the Abbey and on the island
As you make your way through the winding streets leading up to the peak of the island your guide will be there to share fun and interesting stories about Mont Saint Michel throughout the ages. Your guide will answer all of your questions and help you to take your souvenir photos as well. Once you reach the Abbey you'll be able to tour inside with an audio-guide as your leisure. The Abbey will not fail to impress you with its rich 1000+ year old history, beautiful gothic choir, and delicate cloistered garden.
After you finish your visit in the Abbey you'll have even more free time to explore the medieval village. You'll be able to eat your lunch in the café or restaurant that suits your taste and budget. You'll also have time to find the perfect souvenir that will remind you of your time on Mont Saint Michel among the towns many shops and of course find the best spots to take your souvenir photos of this one of a kind island.
Taste the local Cider!
When you meet back up with your guide you'll continue the adventure together. Normandy is famous for its hard apple cider so your guide will take to visit a local producer where you'll taste some of their best cider. You'll learn about the traditional method of making cider, and of course, if you'd like to purchase some bottles to bring home as souvenirs that's ok too.
After your visit to the cider house you'll start the drive back to Paris. Your guide will make sure the ride is smooth and relaxing in case you want to take a little nap before you arrive back in Paris. There will be a restroom stop half way through the drive back. You can expect to say goodbye to your guide next to the Arc de Triomphe around 7:30pm. The perfect time to take a walk down the Avenue of the Champs-Elysées and find a nice restaurant for your dinner.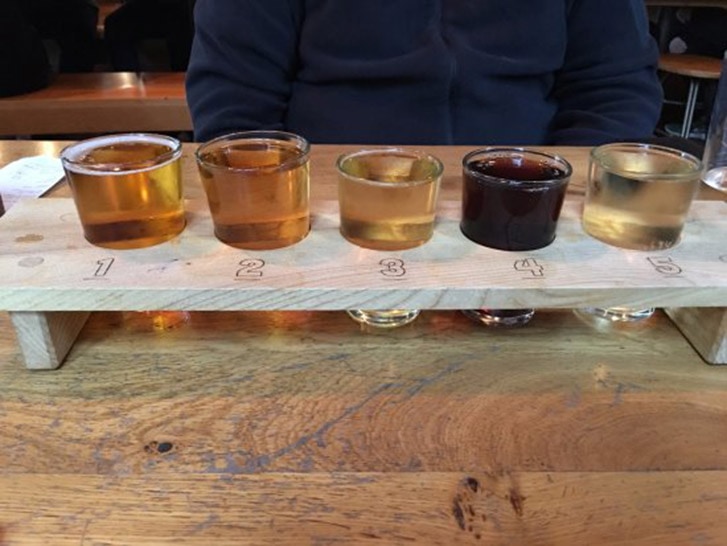 Good to Know:
The meeting point is next to the Arc de Triomphe. We'll send you more details in a confirmation email once you book the tour.
It takes about 3 hours to drive to Mont Saint-Michel from Paris.
You can expect to be back in Paris around 19:30 aka 7:30pm depending on traffic conditions.
There will be frequent opportunities to use the restrooms during this day trip.
Your lunch on Mont Saint-Michel is at your own cost but there is wide variety of food to choose from on the island.
In France a "tip" is called a "pour boire". If you enjoy your tour, you are always welcome to show your gratitude to the guide by giving them a "pour boire".