Explore the beautiful Champagne Region, located only 90 minutes outside of Paris on this small-group day trip. You'll see the town of Reims and visit its gorgeous, gothic, Cathedral where the French Kings of old were crowned. Then you'll explore the countryside around Epernay known as the capital of Champagne.
You'll walk in vineyards, meet a charming local winemaker, visit the prestigious Champagne House of Nicolas Feuillatte, pay your respects at the tomb of Dom Perignon, and taste at least 6 full glasses of different Champagnes!
Champagne is known for being the most festive, glamorous, and romantic of all wines. On this tour, you'll learn about all of the passion and hard work it takes to make Champagne and you'll come away with a better appreciation for this very unique wine.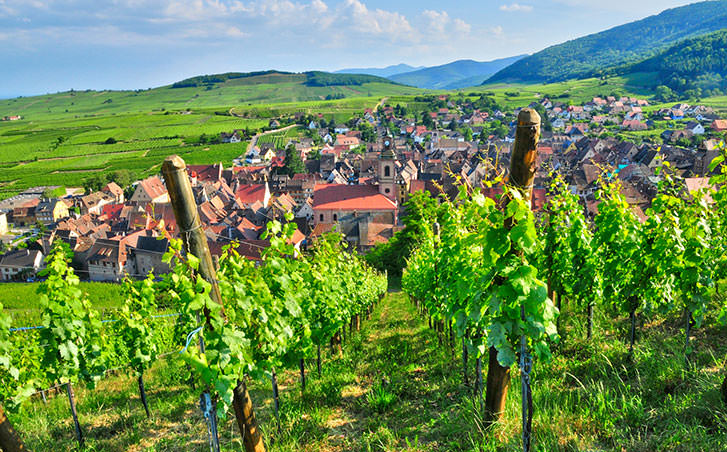 Reims Cathedral and the Local Winemaker
Take a small group day trip from Paris to the beautiful Champagne region of France! Meet your guide at the Place Saint-Michel (in the center of Paris) and enjoy a comfortable, 90-minute, drive out to the Champagne region. Our minibus has comfy leather seats and fresh air-conditioning so that you can enjoy the scenic drive through the French countryside.
The first stop on this tour will be the impressive, gothic, Cathedral of Reims. You'll hear the fascinating history behind the coronation traditions of the French Kings, and learn about some of the 2,000 statues on the Cathedral's facade. You'll also have free time to explore the serenity that is on the inside of this gothic masterpiece.
Then you'll be off to meet a highly regarded local vintner. All of our partners are at least 3rd generation winemakers of Champagne. The local winemaker will take you on an intimate tour of his/her property*. You'll discover all of the delicate details of making Champagne. You'll learn exactly what happens every step of the way from pressing the fresh cut grapes to corking the bottles.
*Please note that on certain dates the winemaker might be too busy in the fields to meet us and in that case his/her child or an employee will meet you and share everything with you.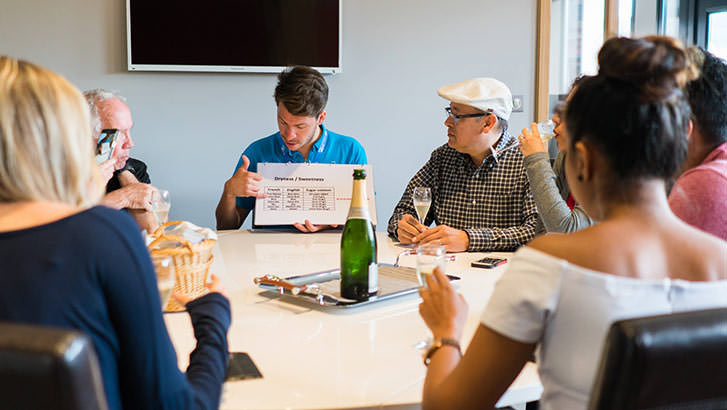 Tasting Champagne and visiting Epernay
Once you understand how it is made, it will be time to let your taste buds do some learning. In a charming tasting room the vintner we'll introduce you to at least 3 different types of Champagne and pour them for you to taste. They will explain the particularities of a Blanc de Blanc and Rosé well as the differences between a Brut and a Demi-Sec, a Cuvée and a Vintage.
Then you're off to visit and eat in the beautiful town of Epernay. In the heart of the old town, you'll have a full hour of free time to explore the town and enjoy lunch. There are several great cafés, restaurants, and French bakeries available in Epernay. With suggestions from the guide we're sure you'll be able to find one that suits your budget and taste in food.
After lunch you'll visit a very prestigious house with one foot firmly planted in tradition and another in the modern world. The House of Nicolas Feuillatte is the #1 Brand of Champagne sold in France with more than 10 Million bottles being purchased and enjoyed annually. It will be quite a different experience when compared to the smaller winemaker's estate that was visited earlier in the day.
Dom Perignon and Nicolas Feuillate
In the House of Nicolas Feuillatte you'll walk among the giant oak barrels of fermenting wine and also see the state of the art machinery that helps bring their millions of bottles of Champagne to connoisseurs throughout the world. Then you'll be invited to taste 3 of their amazing Champagnes and appreciate their unique flavors.
On the drive back into Paris we'll make a special stop so that you can pay your respects to Dom Perignon, the father of Champagne. Friar Dom Perignon's grave is in a small hillside village with gorgeous views overlooking the Marne river and the vineyards around it. There your guide will explain the legend of the humble monk who perfected the Champagne making process.
By the end of this tour you will be able to share with your friends the many reasons why Champagne became the wine of romance, glamor, and celebration. You'll also appreciate all of the passion and effort that goes into producing each bottle. When the adventure is over you'll arrive back in Paris, between 6 and 6:30pm, at the Place Saint- Michel.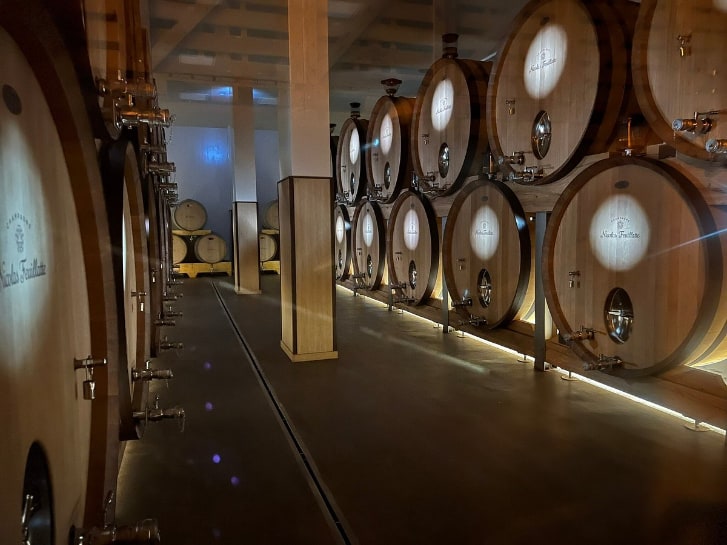 Good to Know:
In France, the legal age to buy alcohol is 18 years old. Minors will not be served by the Champagne houses we visit as it is illegal for them to serve alcohol to minors.
Our meeting point is easy to find and we'll send more details in your booking confirmation.
This tour includes generous pours of six different types of champagne!
Lunch is not included in our tour price. You will have a 1 hour break to eat in Epernay.
Gratuities (aka "tips") are never obligatory but all guides welcome them.