Walk in the footsteps of two amazing artists: Claude Monet and Vincent Van Gogh on this small group day trip from Paris. Discover the unparallelled beauty in the Clos Normand and Japanese Water gardens of Claude Monet, in Giverny. You'll feel as though you've stepped into one of his Impressionist paintings as you walk among the willow trees and cross the little green bridge over his pond of water lilies. Then you'll explore inside of his colorful family home.
After your visit of Claude Monet's home and gardens you'll stop at his tomb to pay your respects to this great man in person. Afterwards, you'll be off to visit the town of Auvers-sur-Oise where you'll focus on the troubled life and amazing Post Impressionist art of Vincent Van Gogh. You'll visit the boarding house where Vincent lived the last 3 months of his life.
Then you'll explore the little town, and surrounding area which inspired 77 of his paintings. You'll visit the gothic "Church of Auvers" and walk in the actual "Wheat Field with Crows". Seeing these places with your own eyes will help you to understand why Vincent Van Gogh found so much inspiration in Auvers-sur-Oise. You'll also visit Van Gogh's final resting place; a humble ivy covered grave site.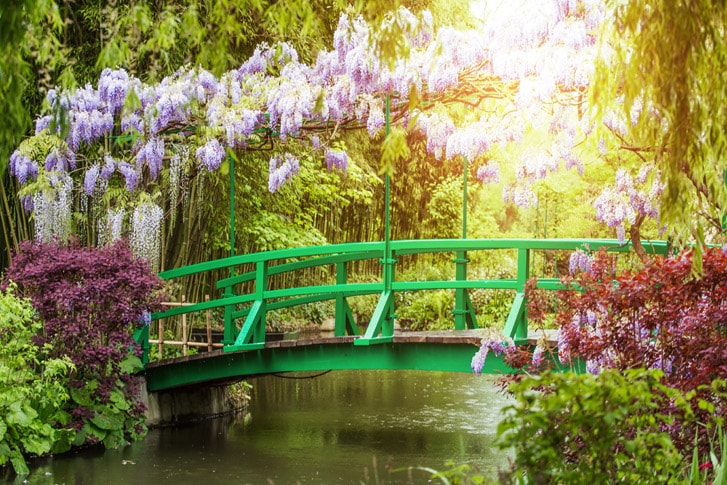 Monet: The Father of Impressionism
This small group tour meets up close to the Arc de Triomphe in Paris. The drive from Paris to Giverny will last about 45 minutes and you'll ride in comfort in our luxury van with leather seats and fresh A/C. You'll arrive at Monet's Estate just before it opens. You will then have priority access into the gardens via the special entrance reserved for guides before the general public is allowed inside.
Your guide will share a great introduction to the life of Claude Monet and his gorgeous estate. You'll learn about his most famous paintings and find out why people call him the "Father of Impressionism". Then you'll have at least 90 minutes of free time to discover the living art in his amazing gardens and visit inside of his colorful family home where he lived with his 8 children.
Giverny was Claude Monet's home for the last 40 years of his life. It was also his greatest source of inspiration for his paintings. You'll see why when you explore his gardens. The Clos Normand garden is overflowing with iris', peonies, daffodils, and nasturtiums that hang off of arched trellis'. The Water Garden is lush and green, with bamboo shoots and huge willow trees. You'll be able to cross the little green japanese bridge and gaze at the delicate water lilies in the pond.
From Giverny to Auvers-sur-Oise
After you have finished your visit of Monet's home and gardens in Giverny your guide will take you to the quaint little church where Monet worshipped on Sundays. There in the little parish cemetery you'll find the final resting place of Claude Monet. You'll be able to pay your respects to this great man and then you'll be off on your way to Auvers-sur-Oise.
Auvers-sur-Oise is about an hour away from Giverny and you'll be driving through the beautiful French Countryside the whole way. When you arrive in the little town of Auvers-sur-Oise you'll be able to take at least an hour long break. There is a boulangerie with fresh baked goods as well as several little restaurants that serve good local foods at reasonable prices. You can choose to eat in whichever establishment best fits your taste and budget.
After lunch you'll be given a fully guided visit of the Auberge Ravoux guesthouse where Vincent Van Gogh lived during the last 3 months of his life. In this museum, of sorts, you'll learn about his final days, see the small bedroom where he died, and watch a short film about his personal life and art. The nail holes of where he nailed his wet canvases to the wall are still present in the Auberge Ravoux.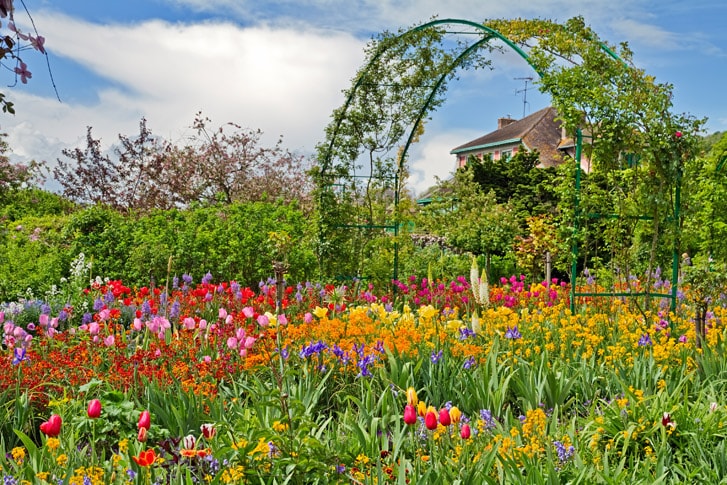 The Artists Trail and Vincent Van Gogh's Grave
Then your guide will take you along the Artists Trail which winds its way through the charming little town and has photo panels standing in the different spots where Vincent placed his easel to paint. Along this trail you'll be stopping to learn about what inspired Vincent Van Gogh's final 77 paintings. You'll even visit the "Church of Auvers" on your way to Vincent's grave site.
Vincent Van Gogh is laid to rest in a very humble grave covered with ivy next to his brother, and best friend in the world, Theo. You'll be able to pay your respects to this troubled genius and thank him for all of the color he brought into the world. Then you'll have a walk through the wheat field that inspired his ominous painting "Wheatfield with Crows".
This day trip is not just for those who are passionate art historians but for anyone who has seen a painting of Claude Monet or Vincent Van Gogh and wondered more about the man behind the colors. This tour is vibrant and full of simple honest stories of real men who lived, loved, painted and died just outside of Paris. It is an excellent way to see the french countryside and learn more about Impressionism and France in the 1900's.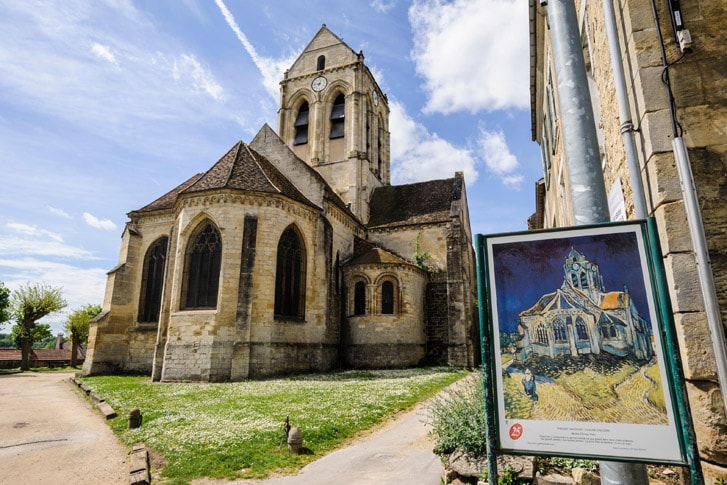 Good to Know:
The drive back into Paris will be about 40 minutes long.
Your lunch is not included in our tour price. We suggest bringing about 20€ per person for a good local lunch, but you could spend only 5€ on a sandwich at the bakery if that's more your style.
In France it is customary to give a "pour boire" aka tip to a guide if you feel like their service was good. Our guides never pressure anyone for tips but they do appreciate these signs of gratitude for a job well done.