Discover two of the most beautiful and historically interesting Chateaux in the Paris region on this small group day trip. You'll visit the lovely Chateau and gardens of Vaux-le-Vicomte, where the "jardin à la francaise" was born and then explore the regal splendor of Fontainebleau where more than seven centuries of kings and emperors lived and shaped world history.
Vaux-le-Vicomte, with its deluxe 17th century decor and outstanding French Gardens is enchanting. It is so beautiful that it directly inspired the Sun King to build the Palace of Versailles, in order to rival it. You'll learn about the captivating history of the estate and its past owners, wander through the perfectly ordered French Gardens, and enjoy free time to explore inside of the Chateau itself.
Fontainebleau is unparalleled in its grandiose architecture and links to important events in French History. With more than 1500 rooms inside, it is a sumptuous palace and according to Napoleon Bonaparte: " The true home of kings, the house of ages!". It was home to three dynasties of Kings, a Pope, and two French Emperors and as such is truly unique among the castles in Europe! You'll explore its majestic halls, extravagantly gilded bedrooms, see Napoleon Bonaparte's throne and learn its fascinating history.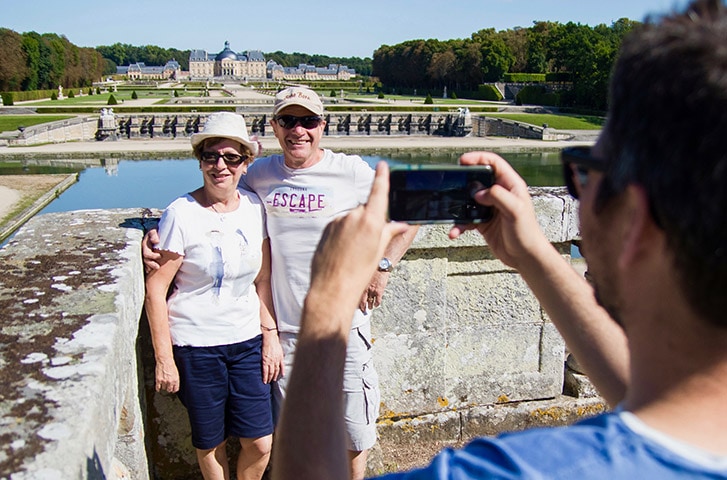 Two Amazing Castles Just Outside of Paris
Meet up with our guide in central Paris, at the Place Saint Michel, and head on a day trip to explore two amazing castles that are just outside of Paris: Vaux-le-Vicomte and Fontainebleau. On this day trip the group size is limited to no more than 8 people and the drive, in our luxury van, is only about 50 minutes long each way. So you'll enjoy not being in a crowd and having lots of time to visit Vaux-le-Vicomte and Fontainebleau.
Your guide will give you a detailed introduction to both castles and their previous inhabitants. Afterwards you will have free time to explore and focus yourself on the most interesting aspects of each castle and its grounds. Inside each castle you will be given an audio-guide and when you are done with the interior you will be able to wander among the beautiful flower displays, bubbling fountains, and perfectly trimmed shrubbery.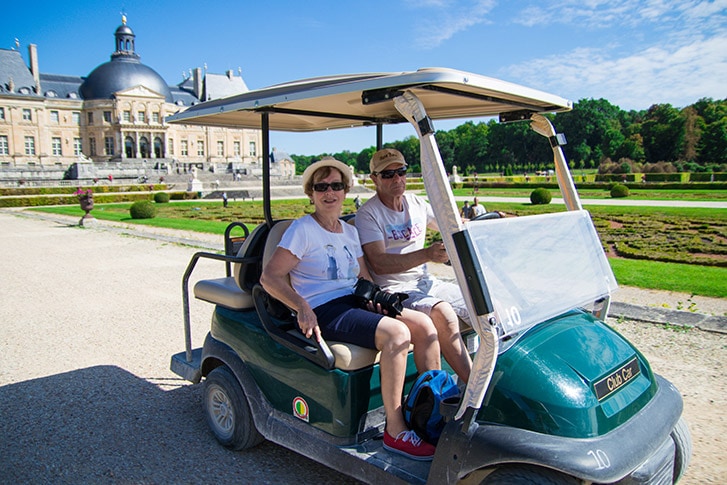 Vaux le Vicomte: the Envy of all
Vaux-le-Vicomte was built for Nicolas Fouquet, Minister of Finance, of King Louis XIV. Fouquet united the most talented French architect, artist, and gardener of his day in order to create the most splendid castle and gardens in France. This dream team consisted of the renowned architect: Louis Le Vau, the artist and interior designer: Charles Le Brun, and the the father of the French garden: André Le Nôtre.
When finished, Vaux-le-Vicomte was the envy of every lord in France, even the king coveted it. So Fouquet was imprisoned, Vaux-le-Vicomte was confiscated, and the talented trio that had created Vaux-le-Vicomte were restricted to working solely for the King himself. The King went so far as to commission the trio to build him a new castle and gardens in the same style as Vaux-le-Vicomte: The Palace of Versailles. Still, today, many prefer the original masterpiece and all of its charm: Vaux-le-Vicomte.
Fontainebleau: "The True Home of Kings"
Fontainebleau, is the only royal castle in France to have been continuously inhabited for 700+ years! Started as a fortress in the 1100's this amazing Castle turned into a sumptuous Palace little by little thanks to the many Kings, Emperors, and a Pope who lived there. Today Fontainebleau contains amazing architecture and interior decorations dating from the Medieval times, through the Renaissance, and into the 2nd French Empire.
Renowned Medieval saints Thomas à Becket and King Saint Louis dedicated it's chapels, during the Renaissance Queen Marie of Medici gave birth to 6 children here, and when Napoleon Bonaparte reigned as Emperor of France he installed his throne in Fontainebleau. Among all of the castles and royal residences in France none were cared for more by the nobility than Fontainebleau. It is truly a magnificent palace that should not be missed!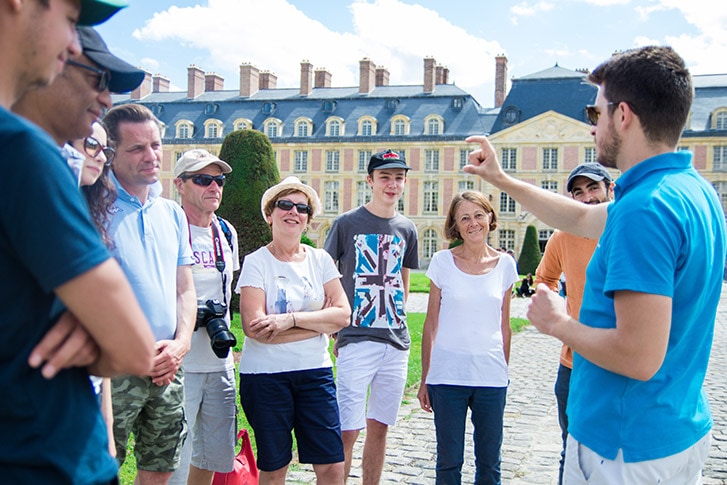 Good to Know:
This tour finishes around 6:30pm back in Paris.
For those with a valid drivers license golf carts are available for rental in the gardens of Vaux-le-Vicomte at your own cost.
Lunch costs are not included in the tour price but there will be plenty of great food options to choose from in the town of Fontainebleau where we will have a break for lunch.
If you loved the tour then please feel welcome to tip the guide! It is not an obligation but it is always appreciated.